So suddenly you found out that your working space is a little boring and wanted to put some little cute miniature stuffs but without spending any money. Well, why don't just making this do-it-yourself free papercraft?
There are several sites that offer free downloadable nicely designed paper models in PDF or picture format. You can print them out on a heavy paper or card stock, and cut out the model shapes and fold and lock/glue them to become a 3D model. It is really economic and fun to do too. Personally I haven't try making any but I would like to try somewhere near future! Below are the sites.
Fwis – Readymech Series 002
Readymechs are free, flatpack toys for you to print and build. They are designed to fit on an 8.5″x11″ page and printed with any printer. You'll need double-sided tape, thick matte paper, and 10-15 minutes for build time.

Papercraft – 4Kids TV
You can find papercrafts of cartoon and game characters like Sonic, Yugi oh, Ninja Turtle in this site.

Canon 3D papercraft
Presenting every kind of papercraft you could imagine – from simple toys to intricate crafts, there's something for all the family! Enjoy papercraft – it's free to download!

Corbis Readymech Cameras
Take a break from your computer! Download, print and build your own pinhole camera. Follow the instructions and enjoy!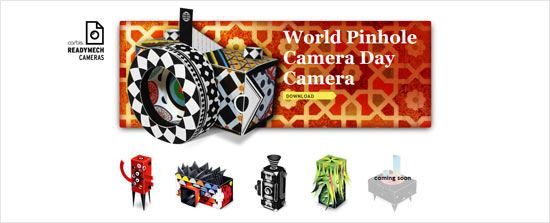 Cubecraft.com
Each toy features interlocking tabs for construction – eliminating the need for tape, glue or other messy adhesives. To download click on the model you would like then save the template image. Each toy is designed to be printed on a standard piece of 8 1/2 X 11 A4 letter paper.

Paper Foldables
You can find really unique designs of papercraft models here!

toylava download
This site offers really cute papercrafts like rabbit and panda. By the way, you can check out their other cute works at here.


Paper Crafts from Yamaha Motor
Make your own paper models of motorcycles, rare animals and more.


Extra
For more information and more links access to the world of papercraft, please visit this blog article about 100 Exeptional Free Paper Models and Toys and this dedicated papercraft world blog!