Last tuesday after work, I head to one shopping center to look around for magazine and other stuff. Then when I walk pass Jusco supermarket, there held a small exhibition called "2007 Japan Autumn food festival" and I decided to take a look. Well, mostly were food packagings from some well known food maker like Meiji Seika, Lotte, Morinaga and much more. Then, I met this cute packaging, it's Tohato's Caramel Corn.
I already knew this packaging from MILK magazine as well as this website which I had covered it before during this "Creative packaging inspiration ~modern & vintage~". But it's my first time to see it in real life. The packaging is very cute and attractive! It has many variations of designs for different kinds of flavor. All of them will featured a character with cute expression, together with the food images either inside the character's mouth or hanging somewhere in the packaging.
I like the packaging very much, because it is eye-catchy and design is funny and cute. I bet this packaging will be the first to be spotted by consumer if it was put together with other food packaging. Actually, it is so cute that I took out my old camera and snap all the way and forgot to buy one or two! So, I don't know how is the taste, but according to PingMag, the taste of these tiny curly flips will causes an immediate addiction! Tasty food paired with nice packaging, great combination!
At the end of this article, I posted up some snapshots of the Caramel Corn packaging, feel free to take a look. If you ask me which packaging I like the most? Oh, it must the the one orange packaging with roasted almond on the nose. 😀 You can also go to the character's page to check out the full range of the Caramel Corn's characters.
Bring Caramel Corn to your desktop
When I surfing the Tohato website, I found out that they offer Caramel Corn wallpapers free for download! The wallpapers are just beautiful and cute as well. It also has special movies, screensaver and even free Caramel Corn web template free for download! Besides that, you can also click here for more Caramel Corn wallpaper goodies.
My Thought
This is a fine example of unique packaging concept which rare to see in local market. Perhaps is the cultural difference between Malaysia and Japan, maybe cute packaging won't practical in here. But we can learn something from this packaging is that by using simple elements, it can also becomes an attractive yet functional piece too.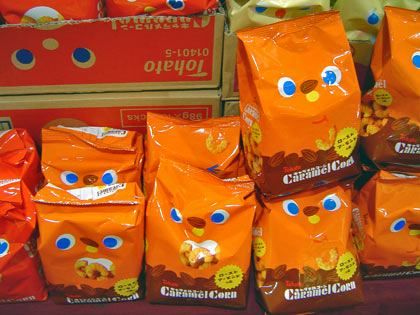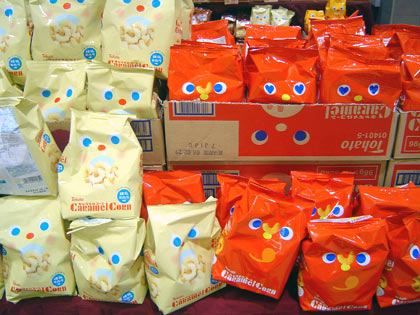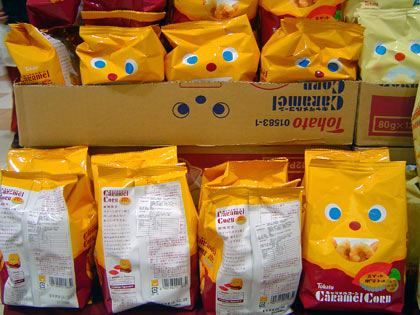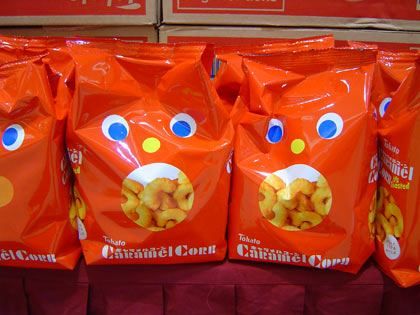 [ssboost]