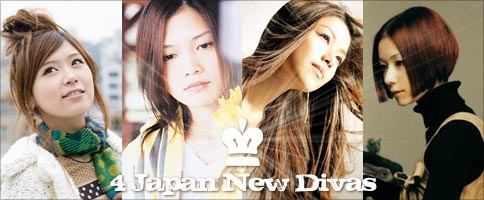 In recent edition of "Nikkei Entertainment" magazine, they elected out the new 4 Japan singing divas! They are YUI, Kimura Kaela, Yuna Ito and Ayaka. They can sing well, write their own songs, multi-talented and have many fans among the 10 – 30 years old fans. Research shows that Kimura Kaela has the most male fans, while the pretty Yuna Ito popular among female fans. Below are their introduction and my recommendation.

Ayaka
Ayaka is just 19 this year, but she has the best prospect compare the other three. She already been tag as the next Utada Hikaru even before official debut. Last year, she debuted with "Rondo" theme song "I Believe", and suddenly become popular. Her album also reached a million marked, top among the others. She earned 84.4 million yen last year, even won Korea Pop Queen BOA. "I Believe" this song get no. 3 spot in Oricon Chart once released, the highest spot for a debut lyricist female singer.
I listened to "I Believe" too, it was very powerful and nice. Although I did not listen much of her songs, but her song is nice. Other recommendation: Mikazuki, Winding Road (with Kobukuro) and her latest single "Jewelry Day" not bad too!
YUI
YUI writes her song too. She becomes popular after acted in a movie "Taiyou no Uta" as Kaoru Amane. The theme song for this movie "Good-bye Days" also sold 500,000 copies in Japan. Before this, she sang theme song for Bleach anime, notable song "Rolling Star" and released two albums, the most recent one is "Can't Buy My Love", released in April this year. She has been pointed as a tomorrow star that acts and sings, after Nakashima Mika and Otsuka Ai.
I just recently picked up her songs. The first song I hear is "CHE.R.RY". I like this song the moment I hear. Very spring feel. Then I started dig out her songs and now, keep on listen to her songs already. Besides "CHE.R.RY", I like "Good-bye Days", "My Happy Line". She sang the theme song for current airing J-dorama Seito Shokun, named "My Generation". I watched the PV, is nice!
YUNA ITO
Yuna Ito becomes famous thanks to the movie NANA, she act as REIRA and sang the insert song "Endless Story". This single was at the top 5 spot in Oricon Chart for 6 consecutive weeks, a record for a debut singer. She is going for Koda Kumi style, her fashion and hairstyles also are the female favourites. Her song and its lyrics also attractive and represents the voice of the new generation.
I knew Yuna Ito since year 2005, because of the movie NANA. She was super gorgeous in the "Endless Story" PV, it makes me like her. I listen all of her songs, and I can see the changes she made. Now, not just sings well, she can dance, act sexy, cute as well! Very talented and nice smile! Other nice songs like: "Precious", "Truth", "Losin'"
Kimura Kaela
Kimura Kaela is a unique one. She's style is playful, and from her PV, you can see she is very different and willing to try on something extraordinary. Besides singing, she is a Model as well, for Seventeen Magazine". She was outstanding in many area, so it is convinced that she can become the Japan new diva.
The first Kaela song I listen is "I (Love) Hug" in 98.8fm. I like this song very much, lyric is simple and the music is peaceful. Her other nice songs like "Happiness!!", "Wani to Kotori", "Circle", "YOU", "Rirura Riruha" etc. Her latest album "Scratch" is a must listen!
Source from TVBT forum.
[ssboost]